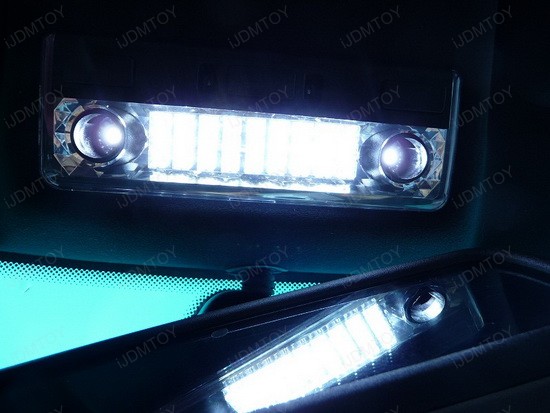 One client ordered the LED dome lights through us several days ago, and finally got around to setting up them on his 2004 BMW 330i Coupe. He was so excited and drove his BMW 330i Coupe to our company. We took some pictures for the LED interior lights.

These LED interior lights have 3 different colors for Xenon White, Ultra Blue and Brilliant Red. And also the LED interior lights are compatible on a few cars like 2001-2005 BMW E46 3 Series.

Doesn't this make this BMW's dome lights look innovative? By spending a few bucks and few mins, our client has given his car a full 180 degree change. Let's face it, in today's overall economy money is stretched all around you. LED dome lights are the most inexpensive yet extraordinary method to deck out your car.

Check out those boring amber colored parking lights. If you hope to stick out from the crowd you better change those lights!

The exclusive and lovely coloring fits a BMW like frosting on a cake. Besides the color, the lighting is much brighter than typical stock lights yet not blinding. It's so shiny you won't even need to use your high beams in darker areas.

It's no big surprise that our client changed his lights. The flat orangey amber color already puts me to sleep.

It is easily to get our items page, and this page features a set of Super Bright Wide Angle Shine Deluxe SMD type Car LED package work for 2001-2005 BMW E46 3 Series.

The xenon white color makes the car appear more inviting almost like it has its own character. If you want a bold and new character look at the LED dome lights for 2004 BMW 330i Coupe. Who knows it may add a unusual touch to your own BMW.


To read more about LED Dome Lights, and the LED Interior Lights used for 2004 BMW 330i Coupe, please visit us at iJDMTOY.com